If you ever play this series of horror games, you will know how much it means to another player. Their fans make so many copies that you will take a long time to play all of them. This game is about puppet machines, and they are not just machines, shells, and paints. They move but with no control, and they can make you regret doubting them. 
FNaF fan games allow the Player to experience more and more things like graphics, sound, story, multiplayer, and online playing. You can find anything you need from a horror game in this series.
Five Nights at Freddy's is believed to make people cry and have nightmares. Machine puppets come at night and disappear when the sun rises again. You have to stay alive until 6 am, or the last thing you see will be dark. You can also play with your friend and make more chances to survive in this horror game.
Introduce
Five Nights at Freddy's is based on a horror story where people face their fear. Especially people who are scared of dolls and machines. Nowhere is totally safe. You have to run and fight all the time. If you stay, you die, but you only get a small chance to live if you run. That is enough. 
In the game, you must find ways to make yourself awake and beware of these puppet moves. They walk in the dark and jump out to scare you. They never get enough, so all you need to do is run and find an object for fighting them.
You can use the camera to watch out for their move and find a good way to stop them. FNaF fan games also ask you to think in a non-normal way. If you want to beat these monsters, you have to think and act like them. All they want to do is harm you and anyone else who comes to their place, so don't waste your time talking with them.
In some versions, they come to you and make you bleed and follow wherever you go. This is a good game story, and this is why so many players like this game.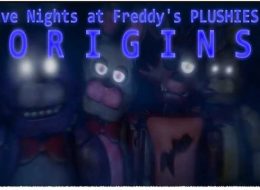 Five Nights at Freddy's: PLUSHIES 4 Origins Free Download offers a great sequel. Players uncover many secrets at Bonnie's Diner and Fazbear Entertainment. Five Nights at Freddy's: PLUSHIES 4 Origins takes place at Bonnie's Family...